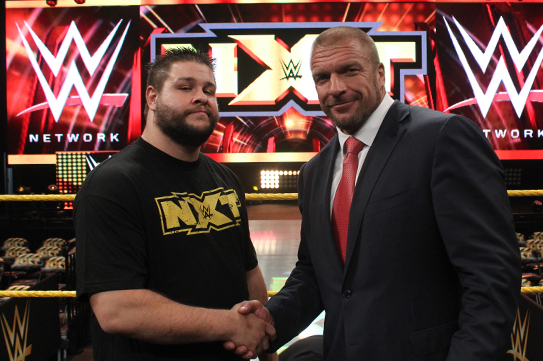 I am unabashedly a Ring of Honor fan. I accept all of the criticisms and acknowledge that many (if not all) of them are warranted, but I have such a special place in my heart for the Ring of Honor of 2003 – 2007 that no amount of Jim Cornette and Davey Richards can sour me on the company. It is with my ROH fan boy hat in hand that I wanted to review ROH TV Ep #152 when it came out. My real life took control and I wasn't able to do that but as I start to craft some new content (new content is coming) for this site and it transmorphs into something new I wanted to make sure that I talked about Kevin Steen's final match in Ring of Honor.
Steen's final match took place on July 19th in Dearborn, Michigan against Steve Corino. I won't spend much time talking about Corino's importance in Steen's career right now, I'm working on a review of the Steen "Hell Rising" DVD where that relationship is covered in more detail. However, the important think to know is that Steen holds Corino in very high regard, credits him with a lot of his success and in a post-El Generico world, there really was no better person to select as Steen's farewell opponent.
I think the thing that makes Steen's farewell so much different from those of CM Punk, Bryan Danielson, Nigel McGuinness or El Generico (to say nothing of Richards, Tyler Black or Eddie Edwards) is that it was so unexpected. Steen has always been the type of guy that figured to spend his career as the king of the independents without ever having the steady income that a contract with Connecticut would provide. Whether it was "body type" or "wrestling style" Steen just didn't fit the mold of a WWE Superstar. The ROH regulars that went before him made sense, for the most part every time WWE would raid the independents (and ROH in particular) we could see the thought process. Even Generico, who sans mask was a wild card was just so spectacularly gifted in the ring that you assumed he'd have a successful few years as an enhancement talent before showing back up in PWG with a bigger retainer.
It wasn't until Steen popped up on the Steve Austin podcast that it dawned on me that he was going to get a shot with the WWE. When a slimmed down Steen started showing up at different events it really hit home that he was doing something to catch the eye of someone in Stanford. The move, beyond financially, made sense from an entertainers point of view. Steen peaked in ROH with his championship victory and feud with Jim Cornette. When Cornette was run out of the company Steen lost some steam. He became "too important" to hold the ROH World Championship but without Cornette as the focal point of his anger he was a bit of a rudderless ship. Nothing confirmed that more than his feud with Michael Bennett over the use of a piledriver. Steen needed a fresh start, he's someone who it is almost impossible not to cheer for. He has a delightful Canadian accent, he is friends with one of the most likable WWE superstars of all time, he is a true "fan" of the form and there is truly nobody on the independent scene that is better at doing what they do well, than Kevin Steen.
So with that backdrop Episode #152 of ROH TV featured the farewell match for Kevin Steen. I was nervous about this one, Corino isn't exactly in the best shape of his career, but as soon as it spilled outside and Steen threw on an El Generico mask to yakuza kick Corino as the crowd sang "Ole! Ole! Ole!" I knew we were in for a special night. The match was the type of match that you imagine two old friends would have on a special night. Both of them made sure to sprinkle in enough homage spots to pop the crowd and touch on the history of the company that Steen would be leaving behind. The Generico spot was great, Corino doing a Dusty Rhodes dance (Steen's other great influence) and Steen following it up with a Flying Asshole (hi Colt Cabana!) was great as well.
The match itself was fine. It was pretty obviously a fan service match and the audience in Dearborn for whatever reason was relatively tame throughout. They cheered for spots, more than anything (though that's not unexpected) and I thought they were really quiet in the ramp up to the finish. Considering it was Steen's last match you would've thought the pop-up power bomb into the package piledriver would've elicited more emotion from the crowd.
My problems with the entire thing is this — ROH TV goes to commercial with the crowd chanting "THANK YOU STEEN" at the end of the match. Really? Way to space out your commercial breaks so as to not interrupt one of the genuinely good moments in your company. When we came back from commercial though we did get the final wrestlers obligation, which is to give someone the rub on their way out the door. Jimmy Jacobs comes out and hugs Steen, which of course leads to BJ Whitmer and Roderick Strong attacking Steen and Corino only to be chased off by the locker room emptying. So The Decade gets the rub from Eddie Edwards and Kevin Steen leaving and I'm still nonplussed by them.
Ultimately Steen now moves onto the next phase of his career, and if you were wondering how excited I am about that move — here is a picture that exploded my heart.